Sightseeing
Sea taxi (small sightseeing boat)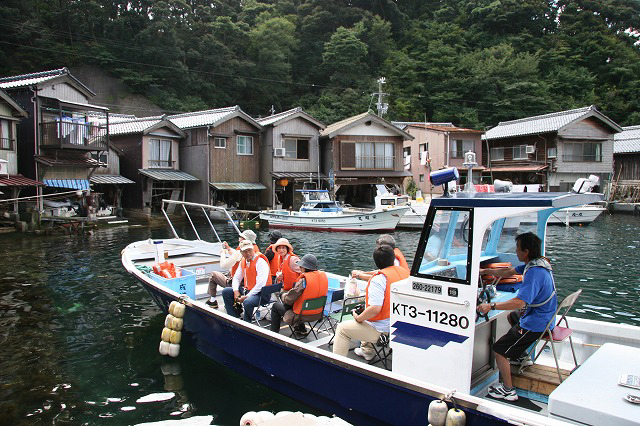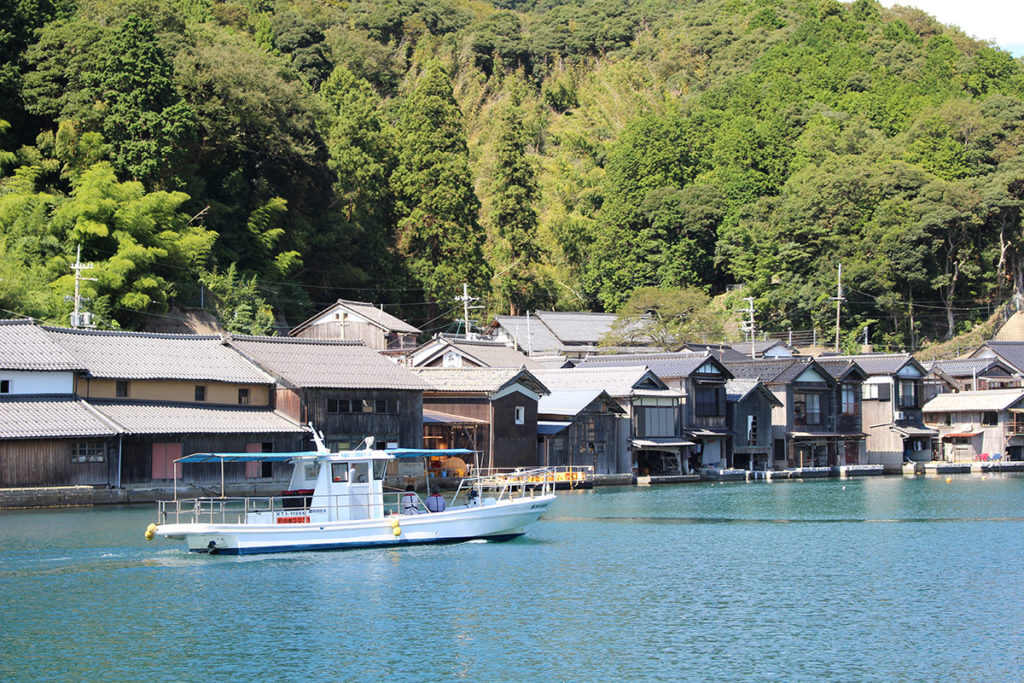 Please note that we do not guarantee the quality of service.
This page was updated on August 4th, 2023.
Fishermen guide you along the coast of Ine on a cruise in their own boats. You can see the original form of Ine`s funaya by observing from the sea side. Riding on one of these sightseeing boats is definitely recommended.
With just one phone call you will be met at one of three locations in Ine bay, so you can call even in the middle of exploring/strolling. Through the varied explanations from the boatman, from things related to the formation of the funaya, to regional festivals and the fishermen and townspeople`s lifestyles, you can gain greater understanding and knowledge about the town of Ine.
※There is no need for a prior reservations, so please get in contact once you have arrived in Ine.
※Main boarding point is Shichimensan parking lot.
Seiyoumaru【成洋丸】
Max person:20 person Staff:Kura Harunari
Tel:+81-772-32-0230
Home page:
http://www.ineseiyoumaru.com/index.html
Kameshimamaru【亀島丸】
Max person:12 person、Staff:Yamada
Tel:+81-772-32-0585
Homepage:
http://kameshimamaru.server-shared.com/
Marine【マリネ】
Max person :11 person、
Staff:+81-90-7360-9323
Reservation in advance +81-90-1022-1252 Staff:Kura
Facebook:
https://www.facebook.com/inemarineactivity/
Herbie【ハービー】
Max person :11 person、
Staff:+81-90-3825-5390
Ship period:
Boarding from 9:00 to 18:00 on weekdays (boarding from 9:00 to 11:30 on weekends and holidays)
Weekdays 9:00 a.m. to 5:00 p.m. (Saturdays, Sundays, and holidays 9:00 a.m. to 11:30 a.m.)
* However, the boarding end time on weekdays may change depending on the sunset time.
* Since there is no roof, it will not be possible to secure it in rainy weather.
【Re:INE】
Capacity: 12 people,
Captain: Ryosuke Teratani
Reservation: +81-80-3100-8954
HP:
https://www.reine.jp/
【Einagimaru】
Capacity: 12 people,
Captain: Hidekazu Shimooka
Reservation: +81-70-7639-9429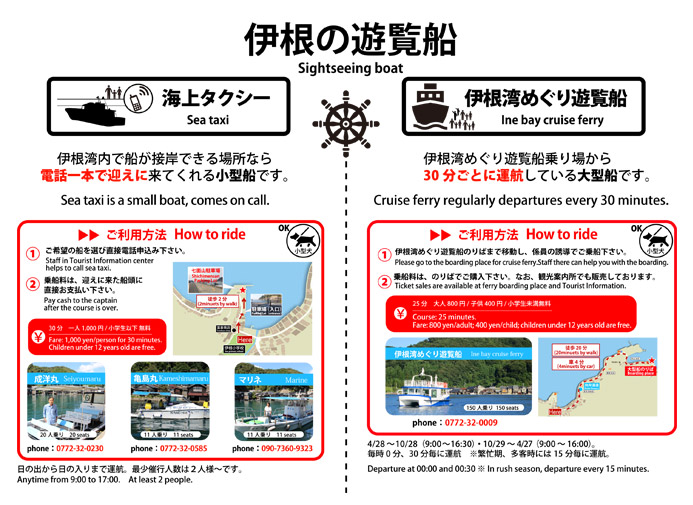 click or tap to zoom
| | |
| --- | --- |
| name | Sea taxi (small sightseeing boat) |
| Business hours | 9:00-17:00 |
| fee | Adult 1,000 yen/person |
| Time | around 30 minutes |
| Closed | Nothing |