Sightseeing
Ine bay cruise ferry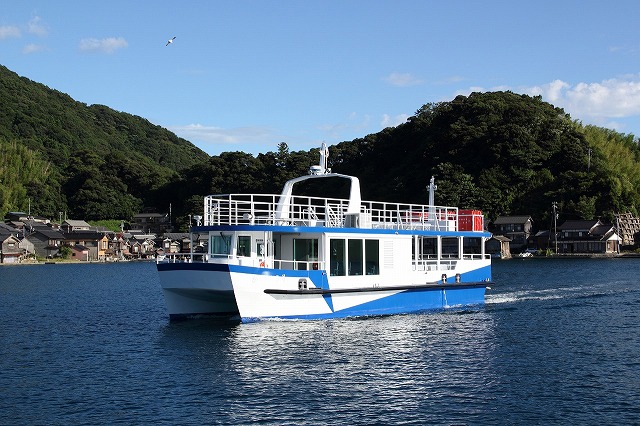 Please note that we do not guarantee the quality of service.
This page was updated on March 12th, 2021.
Large sightseeing boats operating at 30 minute intervals everyday from 9:00-16:00. There is a fixed course which takes you on a tour of the Ine bay over 25 minutes.
The appeal of these large boats is that they do not shake much and have the feeling of stability. You can also feed the nearby seagulls, so this experience can be enjoyed as a whole family.
The scenery of the group of funaya you see from the second floor deck makes this a truly special experience. ※Prior reservation not necessary
●Reservation is required for groups (over 15 pax.)
《Group Reservation 》
●TEL.0772-42-0323 FAX.0772-42-0339
●Inquiry on that day TEL.0772-32-0009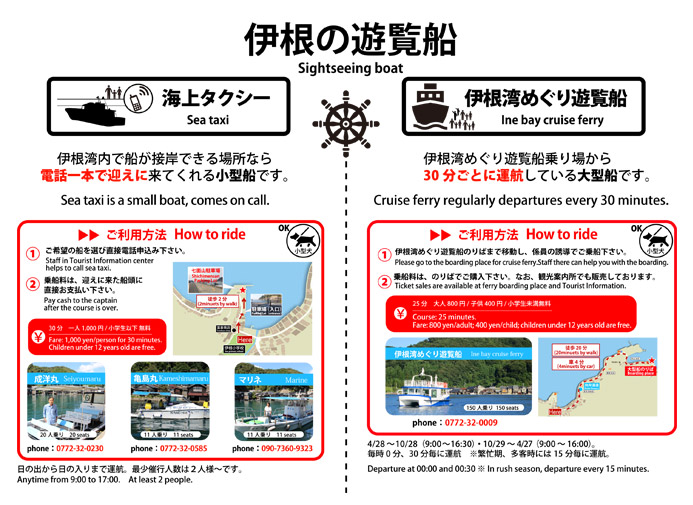 click or tap to zoom
name
Ine bay cruise ferry
address
11 Hide Inecho Yozagun Kyoto
Tel
+81-772-32-0009
Business hours
9:00-16:00 (Departure every 30 mins)
fee
Adult 800 yen Child 400 yen(Elementary school students)
(Adult 1000 yen Child 500 yen from 1st Apr.)
Time
Approx. 25 minutes
Closed
None
Praking lot
Attached to parking lot
HP
https://www.inewan.com/02yuransen.html