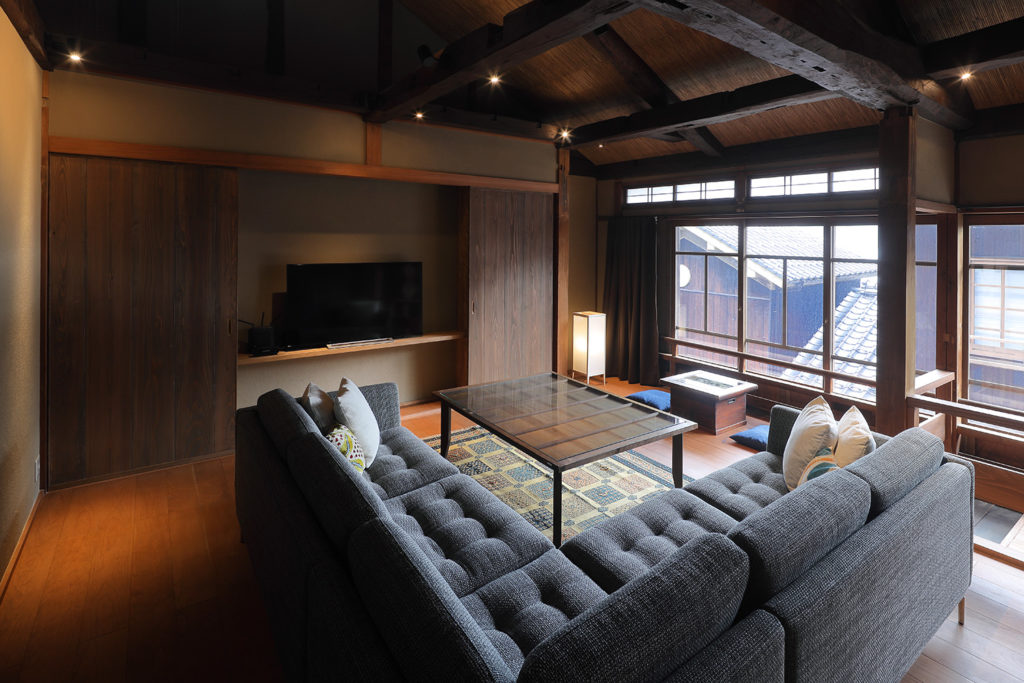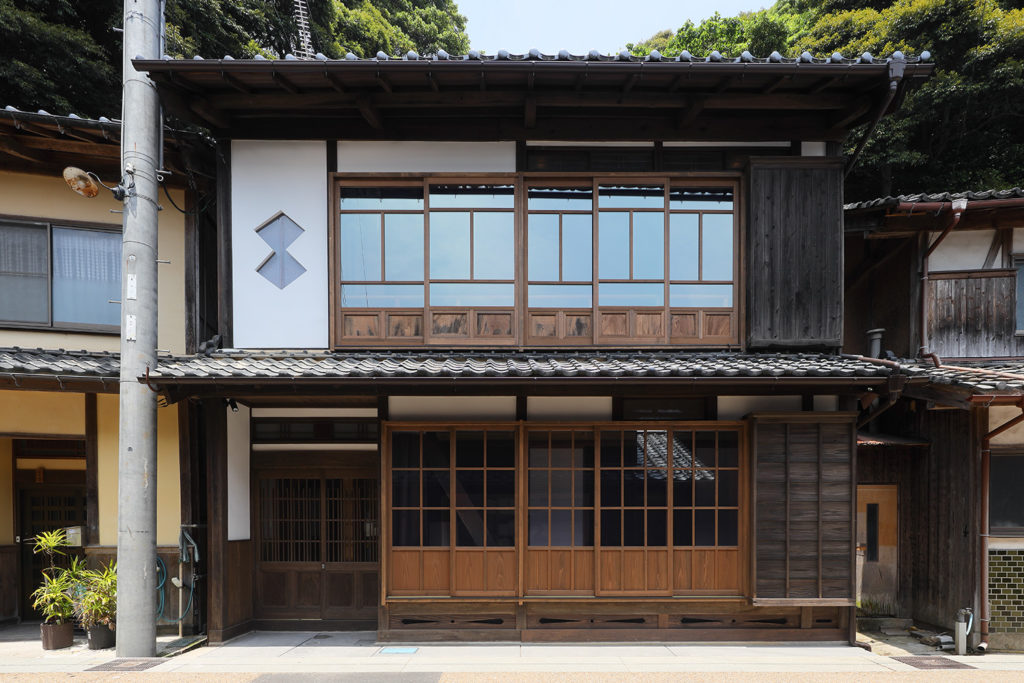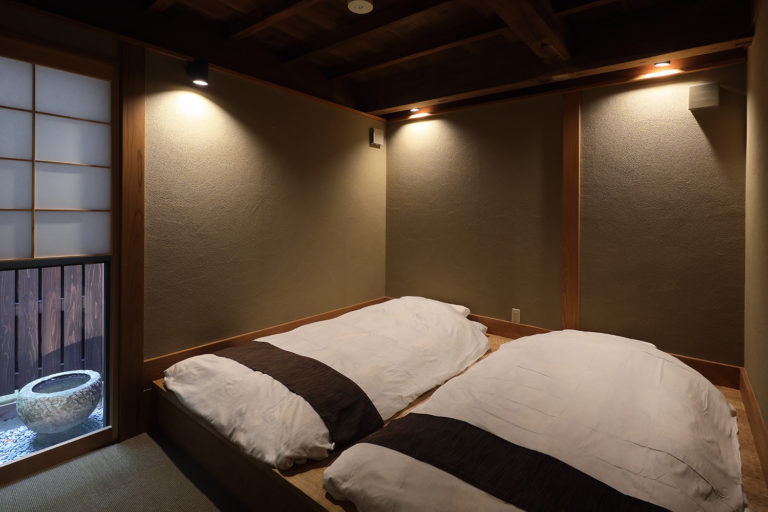 〇All accmmodations on this website Ine Town Tourism Association.
〇Please note that we do not gurantee the service
〇This page was updated on April 24, 2022.
Only 1 group a day would be served. Travel like living is the concept that we want to convey to individual tourists.
◎Check-in place: Ine Tourist Information Then we will show you around the house. Besides, we can recommend you the restaurants, and introduce you the local residents and related people if needed. By staying in Tokiwa(The most important traditional building group conservation area in Japan) as your second home, individual tourists can experience the charming country sea lifestyle and enjoy the stunning view like a real local residence does.
◎Floor plan and facilities Floor plan: Front entrance, living room, bedroom, closet, shower room with bathtub, restroom Facilities: Electric home appliances, floor heating system, air conditioning, washlet toilet, etc. Modern furniture, e.g. sofa, etc.
◎Dining Very convenient to have meals in the restaurants nearby, therefore we only provide accommodation. Considering the historical house is preserved, we do not prepare the stove, pots and other cooking appliances. Guests are NOT allowed to bring and use those stuff indoors. Instead, we have refrigerator, electric kettle, micro oven ready to make sure you would have a convenient stay.
◎NO fire and NO smoking The house is a historical preserved building. Under the current Building Standard Act, the house cannot be built exactly the same once damaged. It is a wooden house, can easily be burned if fire, therefore, smoking and fire are strictly prohibited inside the building. Any facility that easily causes fire is not equipped in the house. The house is our town's charming and valuable property. Please carefully use the house. Thank you for your understanding.
◎Contact Ine Tourist Information Phone: 0081-772-32 0277 (9:00~17:00) Address: 491, Hirata, Ine Cho, Yosa Gun, Kyoto Prefecture
◎Access ☆Bus ※Get off bus at the bus stop called INE. Tankai Route Bus ( Ine Line, Kamanyu Line, Kyokamisaki Line) ☆Car Check in: Ineura park parking lot, where is opposite to the Ine Tourist Information. The first 30 minutes is free. Stay: Shichimensan parking lot, where is about 1-minute walk to the inn. We will give you a 24-hour free car park access card. Please be noted that the 24-hour car park access card is not multiple access card, and your car is only allowed to enter ONCE.
We don`t provide pajamas. Please bring your pajamas with you.
Room charge(one building use/tax included)
You cannot input booking system more than 90 days before you stay.
Child below 4 years old is free (No futon, no amenity).
Child at 4 years old and above, adult rate is applied(futon, amenity provided).
| | | | |
| --- | --- | --- | --- |
| Number of guests | weekday | Saturday and Day before holiday | Specific day |
| 2 people | ¥ 24,200 | ¥ 26,400 | ¥ 30,800 |
| 3 people | ¥ 33,000 | ¥ 36,300 | ¥ 42,900 |
| 4 people | ¥ 40,700 | ¥ 44,000 | ¥ 52,800 |
| 5 people | ¥ 50,600 | ¥ 55,000 | ¥ 60,500 |
| 6 people | ¥ 56,100 | ¥ 62,700 | ¥ 69,300 |
| 7 people | ¥ 61,600 | ¥ 69,300 | ¥ 77,000 |
About a specific day
April 29-May 5、December 29 to January 3、Ine Fireworks day、Other
Cancellation Policy
All schedule is based on Japan time (GMT+09:00).
Your booking date or No-shows :100% of the total amount paid for the booking
Up to 1 day(s) prior to your booking date:100% of the total amount paid for the booking
Up to 3 day(s) prior to your booking date:80% of the total amount paid for the booking
Up to 10 day(s) prior to your booking date:70% of the total amount paid for the booking
Up to 25 day(s) prior to your booking date:50% of the total amount paid for the booking
Up to 30 day(s) prior to your booking date:30% of the total amount paid for the booking

Accepted Cards

Type
Japanese Traditional house
Address
538, Hirata, Ine Cho, Yosa Gun, Kyoto Prefecture
Tel
+81-772-32-0277
Distance from
Funaya area
boat house area (Not Funaya)
Fee
24,000 yen/house~(excluding tax fee)
※Fee is depends on the number of customer and date.For more details, please check their website.
Meals
No meals ・The restaurant "Funayasyokudou" is available.(※Thursday is closed. It Opens from 8:00 am) . ・For dinner, please check the restaurants as below:Wadatsumi(Closed on Wednesday) Hyoshirou(Closed on Thursday) Yoshimura(※Reservation required) Nagisa(※Reservation required),Sushi ichii(Closed on Thursday and sunday)
Uranagi Maru(Closed on Mon--Thu)
Room/Capacity
3 room/7 people
Amenity goods
facial towel, bath towle, body towel, shampoo, conditioner, body soap, toothbrush, hairdryer,mineral water(1L)
Check in/Check out
15:00 / 10:00
Website
If the date is not 'busy" in the below calendar, you can book in general, so please put a button of "Make a reservation".
Email address
N/A
Remarks

No meals

One group a day

Child

Reservation 3 months in advance

No smoking

English

10,000~15,000

15,000~20,000
Calendar