Tours&Activities
Walking Guide Tour Around Funaya Area And Experiencing Mondori
fee : Adult 3,000 yen( 18 years old and above)
Child ( 12 - 17 years old) 1,500 yen
Child ( 0 - 11 years old) for free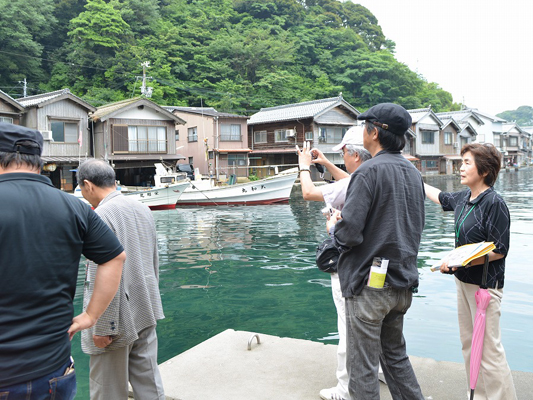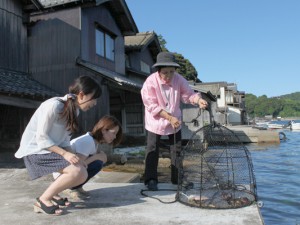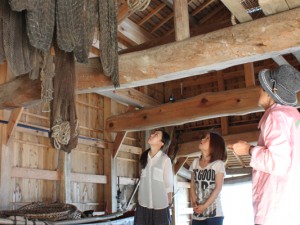 Please note that we do not guarantee the quality of service.
This page was updated on January 30th, 2021.
This tour focuses on the local cultural communication and history explanation of the fisherman's village.
Name
Walking Guide Tour Around Funaya Area And Experiencing Mondori
Event dates
All year round
Time
Morning: 10:15~11:45 (90 minutes)
Afternoon:13:00~14:45 (90 minutes)
Itinerary

In the beginning, Ine history explanation will be given. (20-25 minutes)

↓

Then, go to the local famous Japanese sake brewery called "Mukai shuzou" (15-20 minutes)

↓

Then, take a look inside of a boat house (20-25 minutes)

↓

Finally, walk to another boat house to experience a traditional fish catching, called "Mondori"(15-20 minutes)

Meeting point
Ine Tourist Information
Parking lot
Ineura parking lot
Fee
Adult 3,000 yen( 18 years old and above)
Child ( 12 - 17 years old) 1,500 yen
Child ( 0 - 11 years old) for free
Payment methods
Pay cash or Credit card at Ine Tourist Information
Max number of reservations possible
Max. 10 people
Min. 1 people
※For this tour, at least 2 people are needed. 
Things included
Guide fee, Entrance fee of Funaya, Mondori experience fee, insurance fee
Things excluded
Parking fee ※The first 30 mins are free, 100 yen for after every 30 mins
Cancel policy
Cancel 1 week before: Free
Cancel 5 - 3 days : 30%
Cancel 1 day before reservation : 50%
Cancel on same day : 100%

Have questions? Call this number:
0772-32-0277 (Ine Tourist Information)
Remarks
(1) Usually reservation 5 days in advance is required. Within 5 days, you can contact us to see if other groups join the experience on that day. If yes, you can probably join it.
(2) Tour will be not be cancelled even in the rainy days
※Please be noted that sometimes there is probably no fish in the Mondori bucket.
Tour & Activity application calendar
The "〇" mark does not mean that you can immediately make a reservation, but that you are able to apply for a reservation. It is possible that we will not be able to accept your reservation. After we receive your reservation, our staff will reply to you within a couple of days by email to confirm your reservation. If you don't receive a reply, please check your spam mail folder. If you agree to the above content, please click your dates and apply for a reservation.