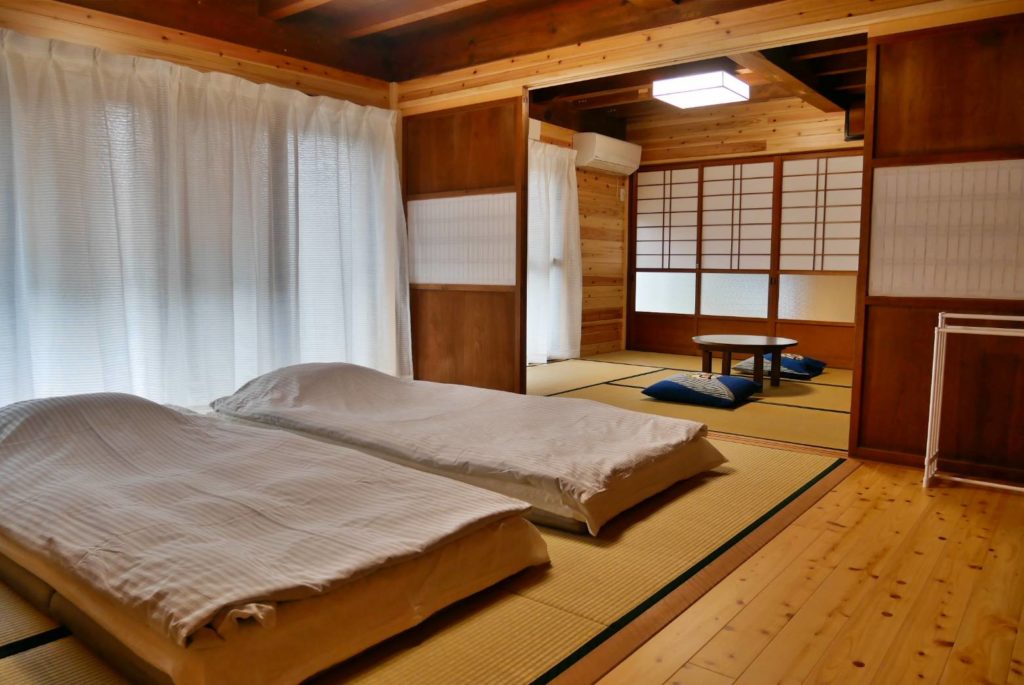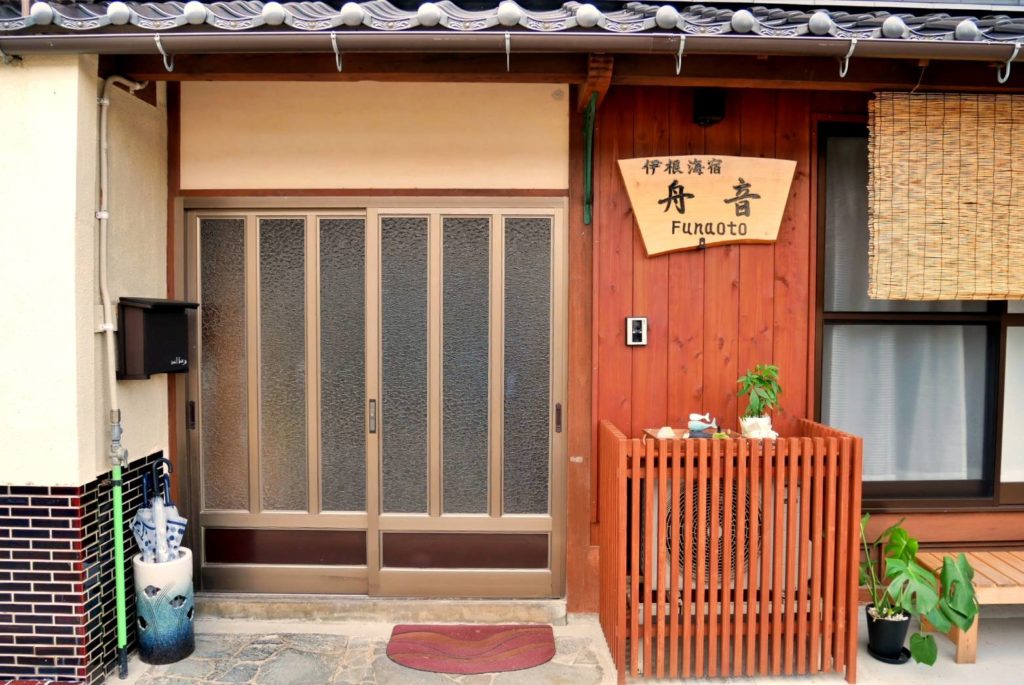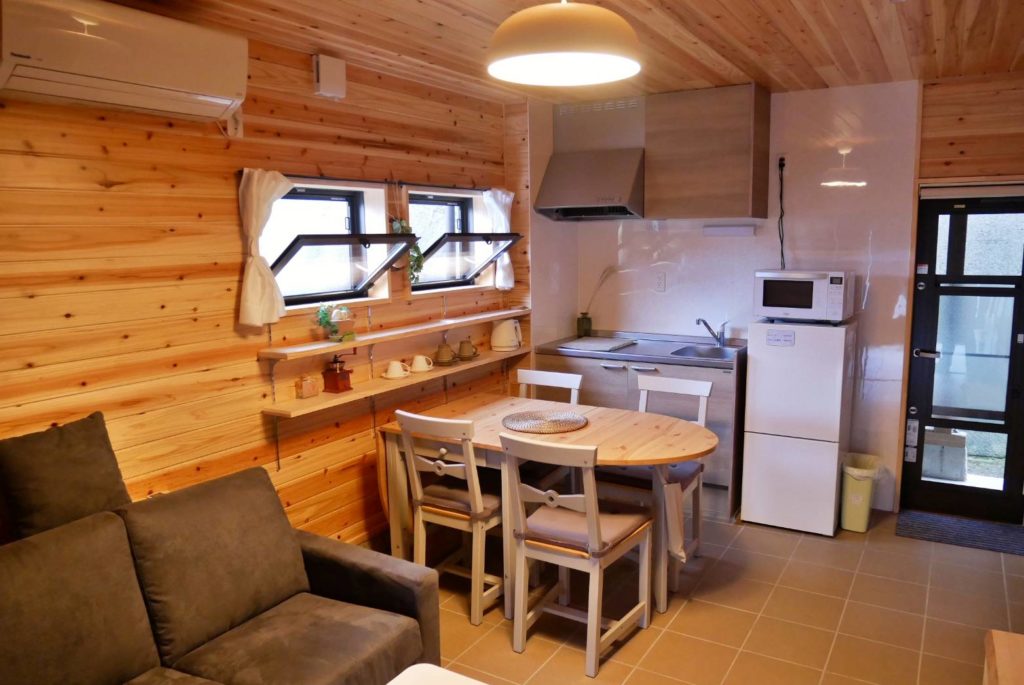 〇All accmmodations on this website Ine Town Tourism Association.
〇Please note that we do not gurantee the service
〇This page was updated on November 12, 2022.
Let you feel home like a local
Funaoto, located in the center of boat house area in INE town, Kyoto prefecture. Very close to fishing port, easy access to most popular hot spots on foot. The house is about 75 years, was used to be a fisherman's home. During the renovation, we tried to keep the original historical architecture as well as equipped the house with the modern comfortable facility to make our guests feel at home. Funaoto mainly provides experiences and funny activities, not just an accommodation.
〇Accommodation on 1/F, esp. suitable for seniors, children, anyone with heavy suitcases. 2 bedrooms, 1 bathroom for each room. Family groups or friends groups are welcomed.
☆Activity: 1st fishing rod per group is free to use. Bait and 2nd fishing rod are additional charge.
◎Parking: a 24-hour free car park access card will be provided. Please be noted that the 24-hour car park access card is not a multiple access card, and your car can only allowed to enter ONCE.
Concept of Funaoto
Let you feel home like a local
・Focus on experience and communication
・Your feelings, I care
・Simple and comfortable stay
・Walk to the community with you when there is a festival or an event
・Fluent in English, Chinese, Cantonese besides Japanese
・3 year working experience at Ine Tourist Information, be able to show you around without a problem
Easy access
・3 min walk to fishing port / Sushi restaurant Wadatsumi / Ine cafe / 3rd place bar
・5 min walk to observatory deck"Funaya no Sato" / gift shop / restaurant Aburaya(1F) / Restaurant Funaya(2F) / Restaurant Nagisa / Miyabi cafe
・7 min walk to bus stop (Ine Yubinkyoku-mae ) / museum of history and folklore / Shichimensan parking lot
・9 min walk to Ine Tourist Information / Ine-ura park
・10 min walk to bus stop ( Ine )
・13 min walk to Mukai Sake Brewery
Room rate (Exclude tax)
| | | | |
| --- | --- | --- | --- |
| Age | Sun-Thu | Fri, Sat, the day before holiday | Beginning and end of a year, firework festival |
| Adult *aged 13 and above | ¥10,000 (※1) | ¥11,000 (※2) | ¥13,000 (※3) |
| child *aged 6-12 | ¥6,000 | ¥6,000 | ¥6,000 |
| child *aged 0-5(※4) | ¥2,000 | ¥2,000 | ¥2,000 |
(※1) ¥14,000 will be charged for solo guest.
(※2) ¥15,000 will be charged for solo guest.
(※3)Only for more than 2 persons
(※4)Child can share the futon bed with his/her parent.
Type
Guest house
Address
610-9, Hirata, Ine-town, Yosa-gun, Kyoto prefecture, Japan 〒626-0423
Tel
+81 - 90 - 3992 7972
Distance from
Funaya area
Boat house area (Not Funaya)
Fee
please check the rates listed above
Meals
No meals or Breakfast only
・breakfast fee is 1,500 yen / person(tax included).
・For dinner, please check the restaurants as below:Wadatsumi(Closed on Wednesday) Hyoshirou(Closed on Thursday) Yoshimura(※Reservation required) Nagisa(※Reservation required),Sushi ichii(Closed on Thursday and sunday)

Room/Capacity
2 room / 9 person
Amenity goods
Air conditioner / Refrigerator / Micro oven / TV / Electric kettle / Hair dryer / Bluetooth Sony speaker / Wifi / Tooth brush set / Comb / Razor / Facial towel / Bath towel / 1 folded bed (**For senior or someone who needs it, please let me know when you book. ) / Shampoo and conditioner / Body wash
Check in/Check out
16:00 / 10:00
Website
https://www.inefunaoto.com
Email address
inefunaoto@gmail.com
Remarks

No meals

Farm-inn

One group a day

Child

Solo-trip

Pick-up service (only in Ine Town)

Reservation 2 months in advance

Reservation 3 months in advance

Reservation 4 months in advance and more

No smoking

Same-day reservation

English

Less than 10,000

10,000~15,000

15,000~20,000

20,000~25,000
Calendar