Tours&Activities
Sashimi making experience
fee : Adult 4,500 yen( from 7 years old and above)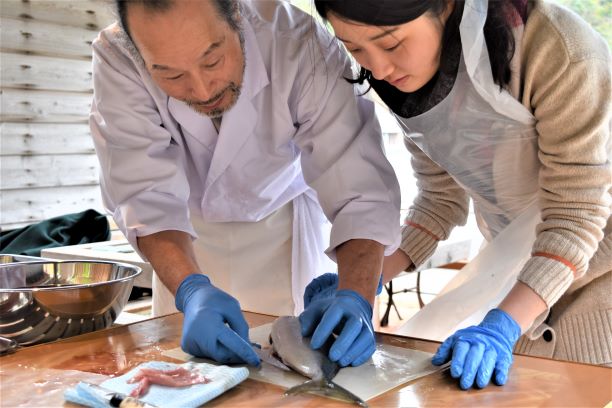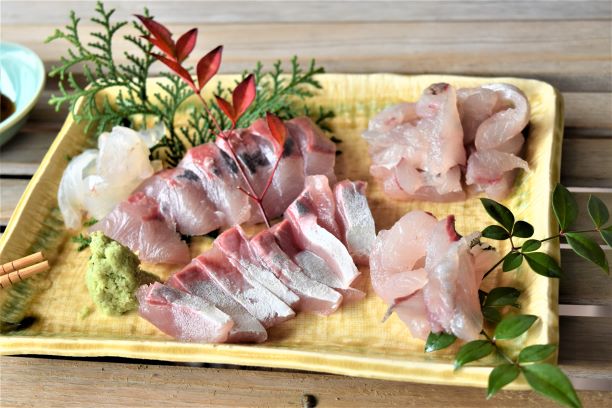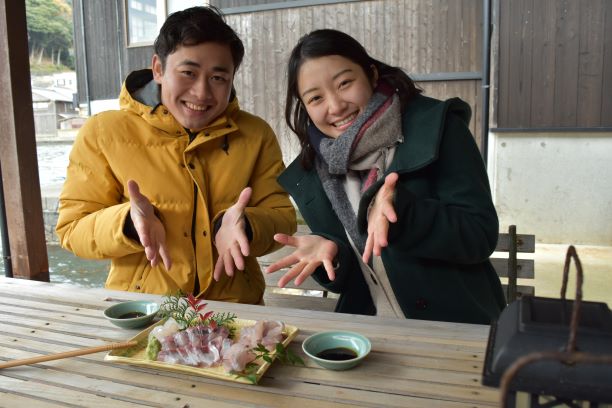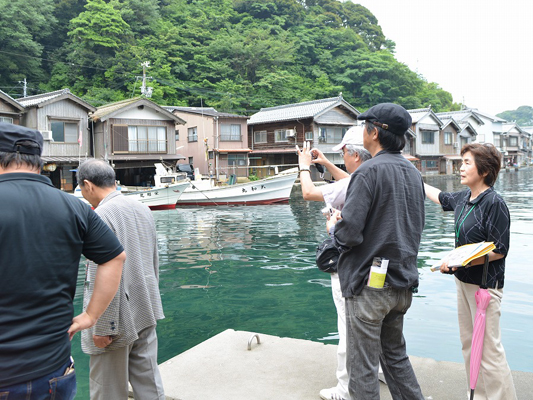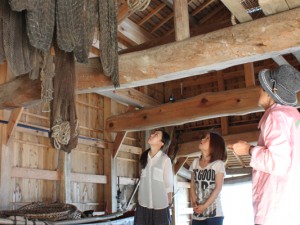 Please note that we do not guarantee the quality of service.
This page was updated on January 29th, 2021.

Ine, a traditional village, preserves not only the oldest Funaya's, but also the original way of tasting fish. Owing to the abundant fresh fish, most locals not only seniors but also young people, are good at fish cutting, sashimi arrangement. We probably are not the best sashimi artists but are the unique ones for sure.
Experienced cook, an owner of Water front inn as well, will give you a lecture and hands-on practice from cutting, slicing, to arranging. After it, you can take a picture of your amazing artwork and taste the freshness of raw fish that is caught in the early morning of the same day morning. This experience will be held in the open air at Water front inn, which means you can also enjoy the picturesque Funaya's view among the green water and the colorful mountains at very good location. Highlights Learn how to prepare delicious sashimi, from selecting quality ingredients, to slicing and serving. All ingredients are caught on the same day morning.
Name
Sashimi making experience
Event dates
All year round except for Saturday and the end of year.
Time
10:00-11:30 or 14:00-15:30 (1hour 30minutes)
Itinerary

(Meeting point) Ine Tourist Information

↓

(Sashimi making experience) Water Front Inn Yosasou <60minutes>
Go to the Inn "Water Front Inn Yosaso" and Each customer making sashimi by yourself. The owner teach you how to do it.You can enjoy your sashimi in front of the Inn. And you can share rest of them to birds. Please feed it to them and feel Ine lifestyle.

↓

(Funaya guide) Water Front Inn Yosasou <30minutes>

Meeting point
Ine Tourist Information(〒626-0423 Hirata491, Yosa-gun Ine cho, Kyoto)
Parking lot
Ineura parking lot or Shichimensan parking lot
Fee
Adult 4,500 yen( from 7 years old and above)
Payment methods
Pay cash at Ine Tourist Information
Max number of reservations possible
Max. 5 people
Min. 2 people
※For this tour, at least 2 people are needed. 
Things included
Guided fee, entrance fee of Funaya
Insurance Fee
Fresh fish
Ingredients for making sashimi
An English-speaking Japanese cooking instructor
Utensils and tools provided
Things excluded
Parking fee
※The first 30 mins are free, 100 yen for after every 30 mins.
Cancel policy
Cancel 1 week before: Free
Cancel 5 - 3 days : 30%
Cancel 1 day before reservation : 50%
Cancel on same day : 100%

Have questions? Call this number:
0772-32-0277 (Ine Tourist Information)
Remarks
(1) Usually reservation 3 days in advance is required. Within 5 days, you can contact us to see if other groups join the experience on that day. If yes, you can probably join it.
(2)We will prepare an apron for you but there may be possible to get dirty sometimes.
(3)Sashimi making experinece will be held at outdoor so please bring warm wear.
(4)If we can't get fresh fish due to bad weather, the tour will be changed to walking guided tour. We will inform to you in the beginning of the tour.
Tour & Activity application calendar
The "〇" mark does not mean that you can immediately make a reservation, but that you are able to apply for a reservation. It is possible that we will not be able to accept your reservation. After we receive your reservation, our staff will reply to you within a couple of days by email to confirm your reservation. If you don't receive a reply, please check your spam mail folder. If you agree to the above content, please click your dates and apply for a reservation.